Products
NDX' cell and tissue acquisition systems offer numerous advantages over existing tissue microdissection or cell collection devices. Versatility of our instruments ranges from single cell collection to tissue microdissecion, including protocols developed for acquisition of regions of interest from fixed tissue specimen such as formalin fixed paraffin embedded (FFPE) tissues.
Importantly, cells collected from culture dishes demonstrate high viability compatible with single cell clonal expansion.
UnipicK+™ and A-picK™ offer single cell adhesion test providing an important link between cell collection and its functional phenotype.
About products
The instruments can reliably transfer from nanoliter to microliter volumes and fit multiple models of inverted microscopes using our proprietary universal microscope straddle. Both UnipicK+™ and A-picK™ controlling software offer intuitive and self-explanatory program menus to minimize the learning process and facilitate sample acquisition workflow. The systems are compatible with 96-well workflow and may be used for most single cell analysis protocols. In addition, the instruments are highly adaptable to any protocols offering customizable acquisition, dispensing, detachment, and washing parameters.
Notably, all instruments can collect from any standard culture dishes and microscope glass slides using minimal consumables (DCUs), which can be reused if necessary, minimizing overall cost of experimental work. The instruments including fully automated A-picK are the most cost-efficient systems on the market, require minimal routine maintenance and come with a standard three years full warranty.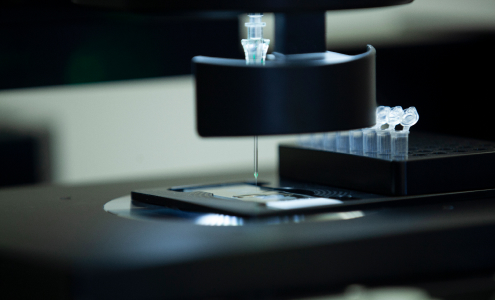 Summary of advantages:
Cost-efficiency and minimal consumables
High adaptability for customization
Versatility in applications
High viability of collected cells
Flexible, fits most inverted microscopes
Easy to learn and to use
Functional adhesion test.
Product comparison
UnipicK
UnipicK+
UnipicK+Auto
Main capabilities
Controls

Analog

Digital

Digital

Acquisition
Dispensing
Applied force read out
Standby height adjustment
DCU movement speed adjustment
Calibration light adjustment
DCU standby height adjustment
Multiple Target preselection
Autocollection
Autodispensing
Manual and auto pulsing
RAMP function
Free standing with universal straddle
Directly integrated with Olympus

 

CKX41,

 

IX73, and

 

IX83
Integrated with

 

Marzhauser SCAN IM 120 x 80 motorized stage

 for automated collection and deposition (compatible with Olympus IX51, IX71, IX81 and NIKON Eclipse MA100)

Main read outs
DCU position
Number of acquisitions
Applied Force, pN
Vacuum and Pressure, kPa
Operation and sampling time
Main applications
Native tissue microdissection
Fresh frozen tissue microdissection
Collection of regions of interest from fixed tissues (e.g. FFPE)
Organoid microdissection
Collection of adherent cells from culture dishes
Collection of cells for single cell analysis
Cell adhesion assay